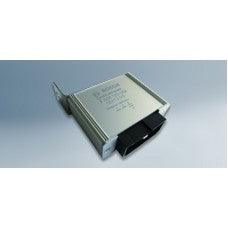 AC is proud to be an authorized Kroon reseller. They are highly regarded for their exact manufacture of Porsche factory wiring harnesses and peripheral electronic components. This Speed Relay is a perfect example of a Best in Class® product as they are simply the best if you value originality.

The Speed Relay is mounted on the rear fuse panel and checks the accelerator pedal position and the engine speed. The relay is called into action once the driver lifts his foot from the pedal as the engine is in overrun.
If the engine speed is over 1.500 rpm in overrun the relay cuts off the fuel injection. Once the engine speed falls below 1.300 rpm the fuel injection will start up again to prevent the engine from stalling. 
Applicable for:
911 2.2 S
911 2.2 T 
911 2.2 E
911 2.3 S
911 2.3 TE
911 2.7 Carrera
914-6
Shipping is 7-10 days on all Kroon products.
Tags: 901.615.111.01 - 90161511101