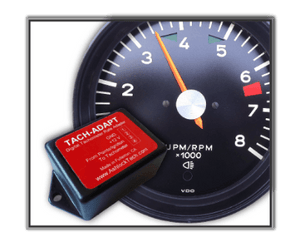 Are you making ignition system modifications or swapping engines?

With TACH-ADAPT you don't have to rebuild or replace your stock or vintage tachometer. Use TACH-ADAPT to accurately drive it from the new engine or ignition system you have installed.
The pulse rate conversion feature makes it possible to match your vintage tach to 4, 6 or 8 cylinder engines. The pulse restoration feature makes it possible to trigger your tach properly from modified ignition systems.