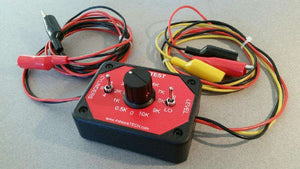 Is your tachometer accurate? Are you sure?
Every workshop needs one of these....  a simple tester to determine if a tachometer is functional and reasonably accurate.  Surprisingly, many older tachometers are inaccurate and this little tool will quickly expose them for what they are!

TACH-TEST is simple to use.  Just connect it to a 12V source (for example, the vehicle battery) and connect the 3 other leads (power ground and signal) to your tachometer. Very useful for checking functionality and accuracy of the tachometer as well as troubleshooting signal continuity through the vehicle wiring to the tach.  

The unit comes with a 6-foot power cord and 3-foot output leads, all with insulated alligator clips to make attachment to 12V power and the Tach quick and easy.