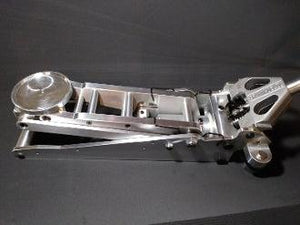 ** Buy The Best Racing Jack That Money Can Buy **
And Save $200.00+
 True racing jacks go lower than the industry standard 3.5" minimum height of imported "racing style" jacks and allow better access for lower, high performance cars.
This Brunnhoelzl® Racing Jack is custom made with the low low 2.4 inch minimum height of the Brunnhoelzl Pro Series®, for $200 less.
This American made, all aluminum jack is finished in a stunning brushed aluminum finish and ships with a one piece handle (in a separate box). The 1 piece handle can be converted to a 2 piece handle that makes transporting the jack in your car easier for $100.00.  Racing jacks also ship with one side grab handle that you can attach to either side of the jack.

Part # BRI-022JP
Designed to reach a maximum height of 17"
Minimum height of 2.4"
Saddle diameter of 4.8"
Length 30"
Width at caster wheels 11.0"
When fully depressed it stands only 3-1/4" tall
Weighs only 29 pounds

40" inch long 1-piece jack handle
Load rating 1500-2000lbs
6-pump jack
This jack is a genuine bargain. All other Brunnhoelzl® jacks that go to 2.5" or lower cost between $1,400 -$1,800. It's custom made and is not widely available.