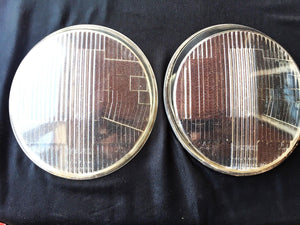 This is the rarest set of the four sets of original Bosch H1 lenses that we just discovered in our warehouse. These have the distinctive fluting used on the very first generation lamps when H1's were first introduced. Extraordinary lenses for very early cars.

I've tried to judge using a 1 to 10 scale but it's inherently subjective so use your own judgement - or ask for more pictures.
Quality of this set: 6-7 / 10
No cracks or chips, significant pitting.