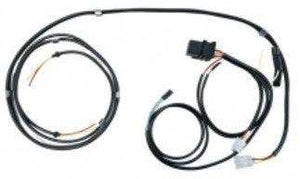 Complete harness for Cibie hood mounted lights for Porsche SWB 911.

Complete Set for Cibie Hoodlights
Harness for hood with 3 pole male connector.
2 x grommet for cable entry.
Harness set for control with relay socket , 3 pole female connector, relay, 2 x inline fuse-holder and wiring to switch.
2 x 8A ceramic fuse
Tie wraps and self adhesive cable tie mounts.
Connection diagram.
100% OEM Correct (that's how Kroon rolls)

As original colored wiring.




Original neoprene terminal sleeves used, (no shrink tube!)

Very high quality flex automotive grade wiring, ISO6722:2002 / DIN72551/6 / EEC directive 2000/53

Gasoline, oil, battery acid, engine coolant resistant.

High flex sleeving ,very resistant to solvents and free of halogen, sulfur and phosphorous.

Handmade in Holland, concours quality.
Kroon is the easiest Best-in-Class designation that we make, simply the best in the world. No one even bothers to debate it. We're proud to be their North America dealer.