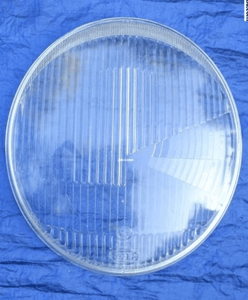 With proper Hella logo, correct in every way. This is one the early flat fluted lenses (the other is the Bosch 4487) that matched the slope of the fender - the best looking lenses that Porsche has ever used in my opinion.

PRESERVE THE CURVE
One of the most classic shapes of all time. Why in the world interrupt those curves with headlights that have protruding sharp edges on top? Time to ditch those Bosch H4 lenses that break the spell and switch into the pretty ones, the Hella 4475 lenses ( and the Bosch 4487's) lie flat and follow the slope of the fender. Preserve the curve.

These are a very popular choice for Audette Collection LED headlights.
Note: If these are sold out the Bosch 4487 lenses are very comparable - and vice versa.