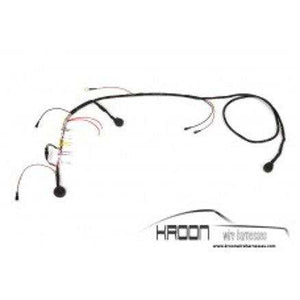 Audette Collection is honored to be a North America reseller of Netherlands based Kroon Wire Harnesses. Kroon is highly respected for their perfect reproduction of Porsche OEM wiring harnesses. Wires are color coded using an exact match to original wiring. Oil resistant tape and wire tubes are as original and the fit is perfect. Terminals have rubber sleeves and grommets are included. Kroon's corporate motto should be "Perfect is Good Enough".
These harnesses are for the front lights.

Note: Price is for the pair.
Specifications:
As original colored wiring.

Original neoprene terminal sleeves used, (no shrink tube!)
Very high quality flex automotive grade wiring, ISO6722:2002 / DIN72551/6 / EEC directive 2000/53
Gasoline, oil, battery acid, engine coolant resistant.
High flex sleeving ,very resistant to solvents and free of halogen, sulphur and phosphorous.
Handmade in Holland, concourse quality.
Part number:

911.612.003.10