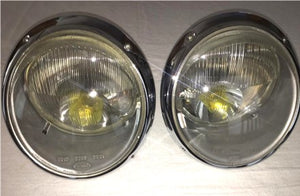 Cibie Bi-Iodes - THE Most Desirable Porsche 911 Headlights

One Pair Available Ready to Build - Amber High Beams

French made Cibié Bi-Iodes were made in two sizes. The 170mm used by the Porsche factory for the 911R, the 911ST and the the 911RSR, and by Ford on the Rally Escort; the 190mm was used by Peugeot and Citroen. 
The 170's were made in limited numbers and are hard to find. We sell them for $3,300.00 when fully restored. The 190's were made in greater numbers, a bit easier to find (although getting harder fast) and a bit less expensive. From the front they look identical. So why not use the 190's on our Porsches? The reason has always been that they don't fit in the Hella sealed beam buckets used for the 170mm lamps. 
Problem solved. Audette Collection has designed a proprietary mounting system that enables the 190mm Cibié Bi-Iodes to be mounted in the Porsche headlight buckets, making for a plug n' play assembly for all air-cooled Porsches. Always very limited quantities.
Cibié Bi-Iode headlights are like the finest jewelry on any 911 build, a crowning touch and a conversation starter.
Cibié Bi-Iodes perform brilliantly with the new GE Megalight Ultra +120 high performance H1 bulbs.