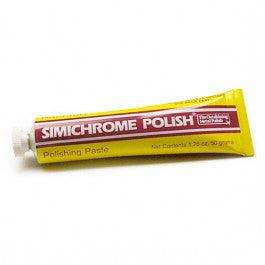 A FAVORITE POLISH USED BY PORSCHE INSIDERS
There are always things that are standards in inner circles. Simichrome is one of those things. It's loved by hard-core Porsche enthusiasts because it works so well. An added bonus is that it lasts so long. An under 2 oz. tube like this has lasted over 3 years for me - and I use it a lot. Here's the official spiel:
Simichrome Polish is a soft paste polish for chrome, silver, gold, aluminum, brass, or virtually any other metal. Cleans to a brilliant shine while leaving a protective film to retard oxidation. Apply a small amount of Simichrome Polish using a clean polishing cloth. Buff with a soft cloth to a brilliant luster. Great for tarnish removal too.
Simichrome is specially-formulated using the finest micron particle size abrasive of any polish available combined with special cleaning agents. Because the abrasive particles are so fine, Simichrome will not harm uncoated metals surfaces.
This is a perfect example of an AC Best-in-Class® product. While it lies outside of our specialty of lighting it's too good not to be listed in the AC Catalog.